As digital transformation accelerates, many businesses now see marketing tools as a fundamental investment. In 2021, the COVID-19 has facilitated the growth of online sales. Looking forward to 2022, how would marketing technology evolve, and what are some new trends worthy of attention?
Here we summarize the top 5 marketing technology trends, to help you navigate through the dynamic market landscape.
#1 Get ready to the cookie-less future
Almost every marketer knows the era of data privacy is coming, yet more than three in five brands are not ready for a cookie-less future, found Adobe.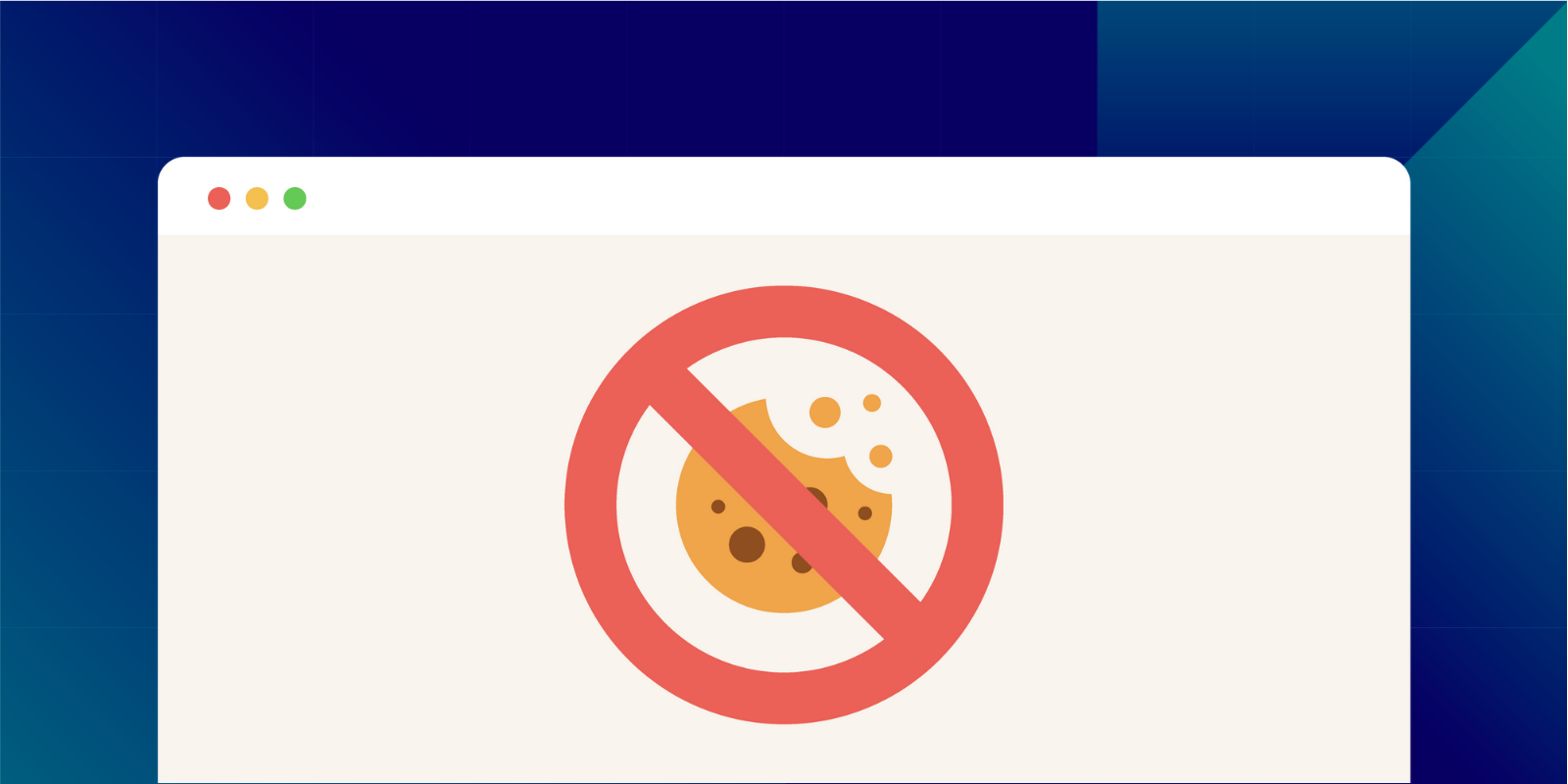 From third party data to first- , zero- party data
Despite Google extending the third-party cookie phase-out to 2023, marketing leaders have limited time to rethink their marketing strategy with owned data (first-party, zero-party) in mind. After all, the removal of third-party cookies from Chrome (65% of the global browser market) means significant erosion on the accuracy of audience targeting and effectiveness of advertising campaigns (ROAS).
The need to centralise customer data in one place
A future-proof cookie-less solution involves first- / zero- party data , user cohorts, contextual and more AI-driven ensembles to understand and interact with audiences.
First party data is the data your customers give consent for you to collect, like website behaviour, email, phone etc. Zero-party data is data that your customers intentionally share with you – think of the data you collect from the customer survey, quiz etc. Both first- and zero- party data come directly from your customer and are owned by you.
Despite customer-centric marketing being no new concept, it becomes unignorable in the cookie-less era. The need of using a centralized customer data platform (CDP) to streamline data collection, build a single view of customers and connect data to multiple channels thus arises fast.
In western countries, CDP has been widely adopted. Around 50% of businesses either have adopted or are adopting a CDP solution. In Asia, the progress started slower. However, as the massive consumer migration from offline to line, the demand of customer data integration grows rapidly under COVID-19. In 2022, we expect to see a significant uptake of CDP adoption.
Advice from Ematic

The direction is clear, but the path is murky. The problem a lot of brands are facing nowadays is indeed not the technical integration, but the lack of a data plan. Remember, simply hosting data will not help you solve anything until you start using it. If a full-blown "first-party data strategy" sounds too daunting, you can always start testing the water with mapping your key user journeys into narrow use cases and orchestrating cross-channel communication.
#2 Personalization continues to conquer the market
Now you want to put first-party/ zero-party data collection in your marketing game plan, but to do so you first need permission from your customers. Your success in consent-based marketing is built on a solid foundation of trust. Relationships are bilateral. Customers would be much more willing to share data with you when they know what value they exchange their data for.
Remember when you agreed to share with Netflix three shows you like for a personalised recommendation? If so, then you know exactly what we are talking about here.
Personalization becomes "Basic Expectation"
It is no secret that personalization is no longer a good-to-have but a must-have. According to Accenture, 91% of consumers today say they are more likely to shop with brands that provide offers and recommendations that are relevant to them..
While 85% of businesses believe they provide a somewhat personalized experience to customers, only 60% of consumers agree with that (Twilio Segment, The State of Personalization 2021 Report) Obviously, there is a gap between what companies deliver and what customers really want. But where does it lie?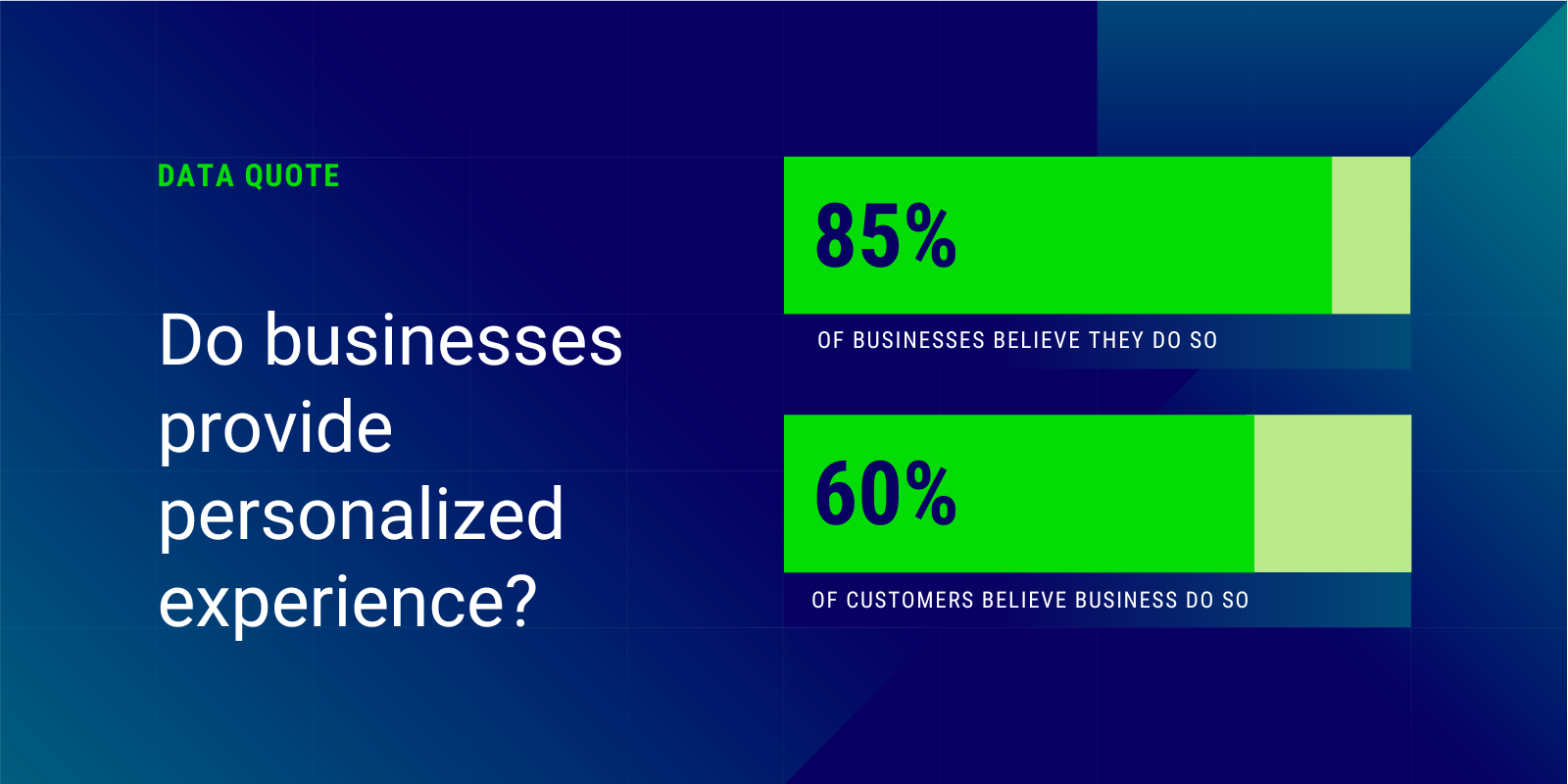 Just doing as you already do is not enough, you need to do BETTER
Firstly, personalization is about journeys, not sessions. Despite that brands own multiple channels to communicate with customers these days, these are often run in silo. As a result, similar marketing messages through the different channels reach the customer without orchestration, oftentimes resulting in annoying over-communication. On the other hand, while 70% marketers apply personalization on email, only around 20% use personalization in other channels. As a result, overall user experience remains fragmented.
Secondly, personalization needs to be done at scale. Manual rule-based segmentation to deliver personalized experience only goes so far. Consumer behavior is extremely complicated and non-linear – they can browse several different things across several devices, get into something and soon be attracted by the other. Simple conditional rules cannot describe them well, but setting up a lot of rules is also overkill. That's why most of the personalization is done on a small scale. Luckily, AI can be used to alleviate such problems and realize real 1:1 personalization, with its capability to quickly understand the real intent of customers, predict actions and provide real-time recommendations.
With the necessity to deliver better personalized experience, it is imperative for marketers to keep multi-channel orchestration based on user journeys and AI-supported predictions at the core.
#3 Channel spotlight: Emails, chatbots and their trends
Among all the marketing channels, emails and chatbots are in the spotlight of 2022.
Email is back (and cooler!)
Thought email is outdated? Well, think again. 78% of marketers said they've seen an increase in email engagement over the last 12 months. In addition, Email still performs as one of the highest ROI marketing channels, according to a survey by Hubspot. Aside from its decent performance in driving engagement and conversion, email addresses are used as a common user identifier that connects other first-party data. No wonder email has made a strong comeback in recent years.
On social media, we've seen marketers actively trying new formats to wield their creativity. In email, there's no exception. More and more brands start to include interactive content to drive engagement. Some examples include British Airways, who use a countdown timer to remind customers of the time left in the sale; Amazon's direct rating module in email to receive feedback, or gifs, form, video, image carousel or even a scratch card. (read more: good examples of interactive email).
Interactive content is proven more engaging yet overlooked by many marketers. 91% of consumers want interactive content, but only 17% of marketers provide it, said Litmus.
As the opportunity continues to reveal itself, many email providers also start to provide interactive content in their template library for the fast movers to ripe!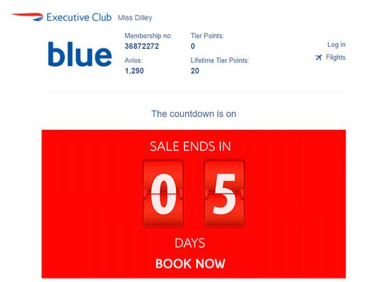 Chatbot boom to drive conversational commerce
The COVID-19 pandemic significantly changed the way consumers shop. As more consumers moved online, brands encountered a surge of conversation demand at their messaging channels, which fuels the explosive chatbot growth. The phenomenon is particularly prominent in Southeast Asia.
Take Facebook Messenger for example. Today, there are around 300k chatbots on the platform, compared to only 100k in 2018. As per Global Market Insights, "The overall market size for chatbots worldwide would be over $1.3 billion.) by 2024."
Chatbots are not only used in automatic replies to reduce operational cost. It is used extensively in a fast rising area – conversational commerce. Conversational commerce is a practice where brands use social touchpoints like chat or messenger to engage customers and sell products. The growth of conversational commerce is particularly prominent in APAC, where people are 1.28x more likely to have interacted with a brand via messaging, as compared to the global average, with Southeast Asia spearheading the innovation, according to Meta. Under the tide, brands start to invest in smarter chatbots powered by AI to help understand the context, facilitate personal recommendations and complete payment.
#4 Digital acceleration with low-code/ no-code tools
Marketers used to be dependent on technical support to make great ideas come true. With low-code / no-code tools rising, the marketing of tomorrow can be done in a truly agile and innovative way.
What is low-code/no-code (LC/NC) and how can you benefit
Both low-code and no-code tools feature easiness to build applications and processes with little to no need of writing code. These tools use intuitive drag-and-drop features, visual interfaces and logical sequences to empower end-users bringing their ideas to life more efficiently. While no-code tools are designed for non-technical users (mainly marketers or business-end users), low-code tools favor developers for its flexibility to support scripting on top of a no-code approach.
The rise of low-code and no-code platforms greatly accelerates the test and learn cycle in agile marketing and shortens time to market. Gone are the days of tech bottlenecks and endless development queues. Marketers who receive first-hand insight from customers, now can easily validate their hypothesis and re-iterate with quick prototyping. Once the insight is confirmed, it can be passed over to the product and development team to build into the core experience.
According to Gartner, 65% of application development will be low-code by 2024.
What to watch for marketing
LC/NC is used extensively in marketing – you can easily make a design with Canva, send automated emails through Mailchimp, build a marketing landing page using Unbounce, schedule your social post on Hootsuite etc. Whatever you are doing with your marketing, there's probably a tool for it.
What is more interesting is how LC/NC makes insight discovery and data prediction even easier!
Traditionally, machine learning is seen as a high-barrier, complicated and cost consuming investment. However, many no-code platforms already exist to simplify the process of data prediction, enabling non-technical people to train their data model with a drag-and-drop function. You can already find customizable AI module support in some advanced customer engagement platforms, such as Emarsys, Blueshift, and Braze that allows marketers to predict user purchase, churn, affinity and realize 1:1 personalization at scale.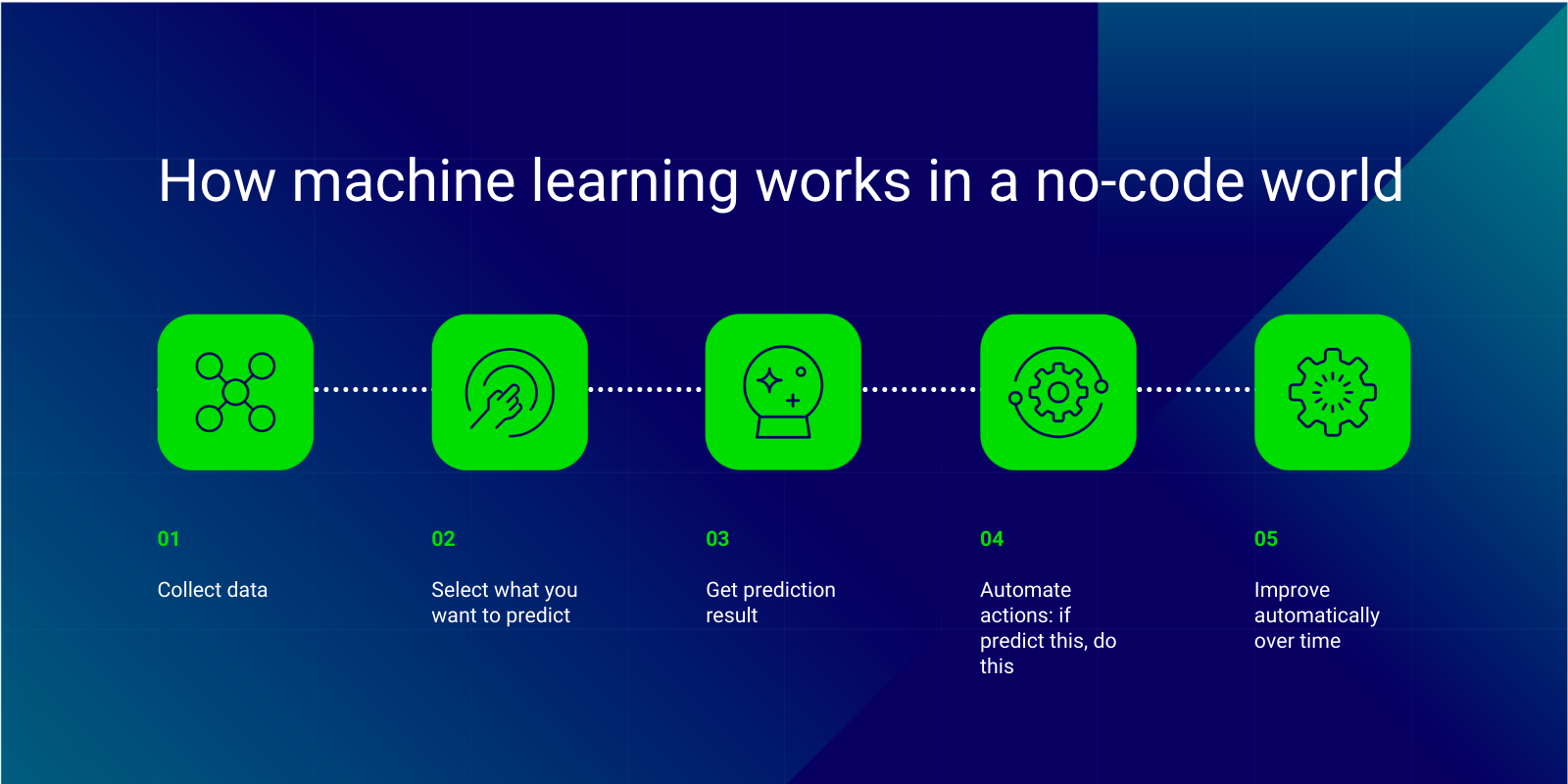 #5 Gone all-in-one. Long live the stack
Market is fast-changing than before. New channel, new consumer behavior emerge every day. Today's businesses need to react swiftly to the market landscape and make sure their toolkits keep up with the latest trend. 252 out of 374 marketers (67%) mentioned they replaced a marketing technology application in the past year (Martech replacement survey 2021)
The all-in-one model, which is preferred by some businesses for its ease of management, falls short in the modern agile marketing era.
The biggest drawback to an all-in-one solution is that although it does everything, each of its components is only performing at most on average, making it harder to compete with best-of-breed applications even on its core competency. On the other hand, a bundle solution also forces you to pay extra for some features you might actually not need, causing underutilization of the suite. Gartner Marketing Technology report cited that 84% of marketers who choose the best-of-breed approach think their martech stack is effective to meeting business objectives, 10% higher than those who choose integrated suite approach.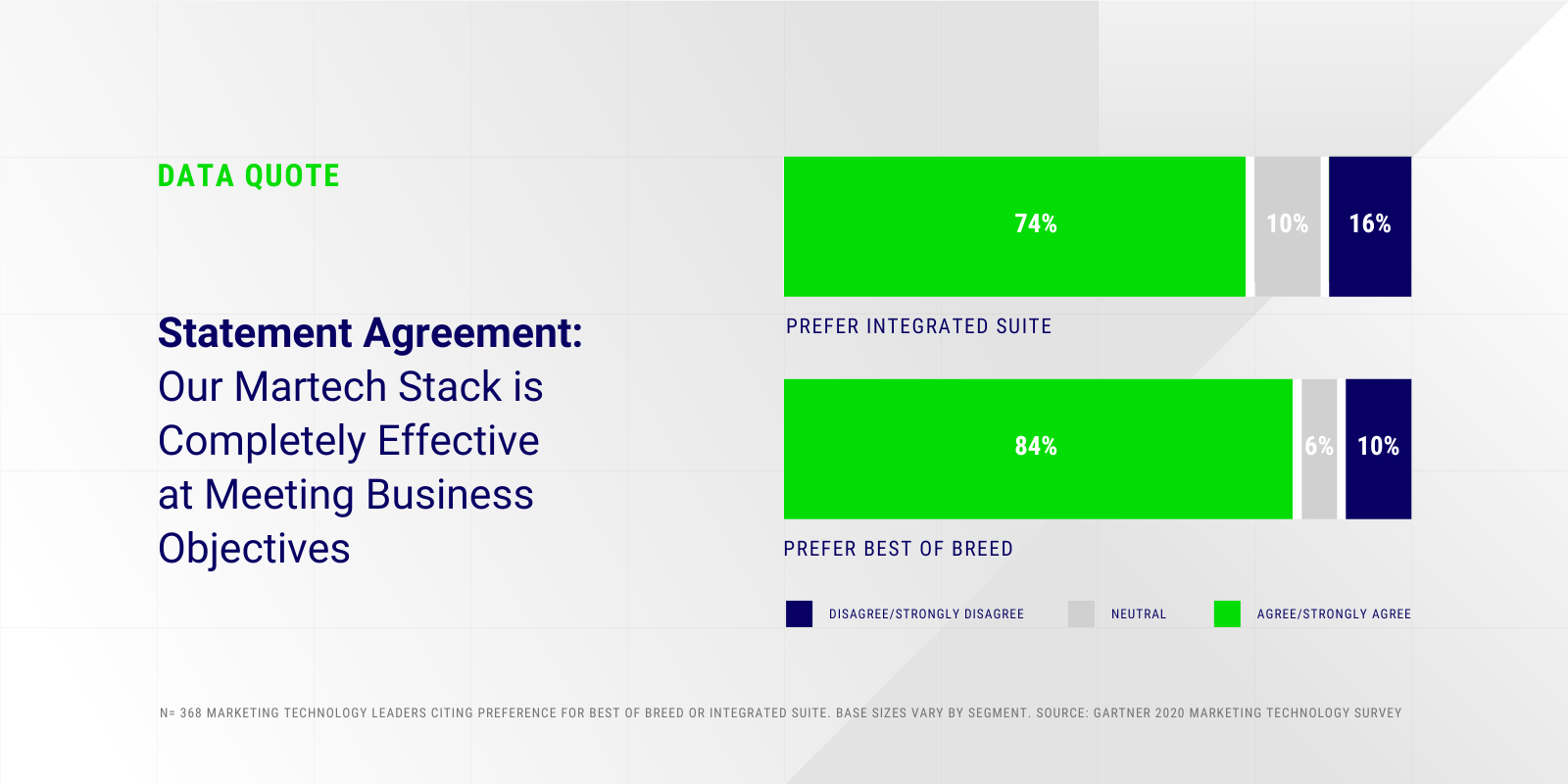 The rise of flexible, interoperable and adaptable stack
To future-proof your Martech stack, integration capability should fall into your essential consideration. You want a tool that innovates fast at its core competency, easy plug and play and has a great connection in their partner network (luckily it's not hard) . Lacking integration capabilities only creates another silo that prevents you from making the most out of the martech investment.
With that in mind, you can start using the Lego approach to customize a Martech stack that grows with you.
Wrapping up with some tips
As marketing technology becomes an essential foundation in modern marketing, marketers are keen to understand how to make wiser investments. It is not unusual to get lost with a plethora of tools and their new shiny object around every corder. Before purchasing any solution, here are a few pieces of advice we'd like you to keep in mind.
Strategy first, technology second
A tool can be used to support a strategy, but it is not a strategy itself. Harvard Business Review described two common pitfalls business fall into: buying wrong Martech solutions include data hoarding, which refers to over-acquiring information just because "it might be useful someday"; and shiny new object syndrome – a tendency for someone to chase new trends and ideas without focus. Both are based on a bottom-up approach of what technologies are available instead of starting with the objective of solving a business problem. When it comes to building your Martech stack, it is of great benefit to be as specific as possible – analyze your current marketing practice, identify how they match with your strategy and where the blockers are.

Read more: https://hbr.org/2021/07/dont-buy-the-wrong-marketing-tech
Start agile and flexible
The concept of a stack is a flexible, easy to plug-and-play model. Therefore, you don't have to buy everything in one go. Some tools will be more important than others. You should start building your technical capability around the most important user journeys you want to deliver, set up a measurement plan and evolve from it. Bear in mind that your technology choice will become a future component of your Martech stack. Choose the right mix that can naturally come together as an ecosystem.
The evolution of marketing technology is full of excitement but sometimes daunting. If you are currently trying to validate your needs, assess a tool or even just understand more about the trend… LET'S HAVE A CHAT!

Ematic solutions is a team of marketing technology experts. We have partnered with more than 70 industry leading solutions across all aspects of marketing technology from marketing automation, messaging to data & analytics. We have helped more than 500 brands make wiser Martech investments across 9 markets – Singapore, Malaysia, Taiwan, Hong Kong, Indonesia, Malaysia, Thailand, Philippines, Vietnam and Bosnia.