The rapid change of new marketing technology puts businesses in need of reviewing and updating marketing stack more often. In the latest Martech Replacement Survey, 83% of marketers swapped out at least one marketing tool in the past year.
Yet, with a sea of tools out there, finding the right solution can become a complex puzzle that overwhelms a lot of marketers.
If you have been through the process, this all might sound very familiar to you:
→ After spending some time coordinating with internal stakeholders to identify the requirements, you begin to research some tools based on information available online.
→ However, without a proper platform demo, there's always missing information until you contact sales.
→ At the sales meeting, they persuade you that their solution can cater to your every need whilst playing light on the limitations. You repeat the same process with different vendors to figure out the pros and cons of each platform so that you can justify the purchase suggestion.
→ Just as you finish your grinding research work, you realize there's still a lengthy procurement, integration and migration process ahead of you.
The way to get the right tools ends up taking months, if not years. This is where our role as a buyer's agent for Martech comes into play.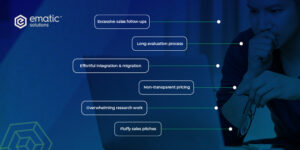 Ematic as a trustworthy agent for your Martech adoption
Whether you want to review your existing technology, replace an outdated one, introduce a new one or build an integrated stack, Ematic can be your trustworthy partner for Martech buying.
With our 9 years of experience in Martech across platforms and industries and being always up-to-date on  the latest trends, we can help you find the right solution and justify Martech ROI faster.
4 values Ematic brings to your Martech buying
We are the buyer's agent:

 We are on your side and our success is built on yours. We don't use fluffy words to force you into one single solution. Instead, we provide relevant options that speak to your benefits while helping you filter out the noise.

Have one centralized point of contact:

 With us being your single point of contact, you don't need to repeat your needs or worry about annoying sales follow-ups. Simply re-route all the communication and let us take care of them for you.

Cost improvement:

 We can help you bring down your total cost structure, inclusive of our costs by finding the fats to trim. Most marketing platform investments struggle to see positive ROI because of the costly one-off setup. We tackle this by amortizing your setup fee over the life of the contract. The longer you sign up with us, the lesser impact it imposes at the initial stage, and the faster you'll see the investment pay back.

Better Deal Than If You Buy Direct:

 Using an agency as a middle man might come across as an extra cost, but it's not necessarily true. Our capability of aggregating demands often grants us higher bargaining power. More often than not, we can help you negotiate a cheaper, if not more flexible deal than buying direct. On top of that, you are guaranteed a local delivery and success team to support your platform adoption onwards.
Support in every stage of your Martech adoption journey
The success of Martech buying doesn't stop at choosing the right tool. We are one of the few Marketing & Technology agencies that can provide strategy consultancy, technical execution and ongoing support to ensure everything goes smoothly.
Strategize your roadmap
Adopting an advanced platform doesn't mean you have to do everything all at once. When we work on a project with you, we map your needs, prioritize the key pain points to help you build a long term plan and step-change your way to the stack of your dreams.
Mitigate migration/integration pain
Dependency on internal IT is one of the biggest blockers in changing to a new tool. We have performed thousands of migrations & integrations, and our engineers will always be on hand to support and expedite your technical process.
Timely, Responsive Local Support
Imagine how stressful it is when your system gets a problem but all you can do is write an email to the system's customer support and passively waiting for a reply. We won't leave you in such a disadvantage. We provide timely customer and technical support in your timezone and local language, so your questions and problems can get solved in no time.
What platforms can we help
Theoretically we can help you source and evaluate ANY platform whether they are our partners or not, but we are particularly strong in these domains:
E-commerce
Shopify, Shopify Plus & Shopify apps
Data & Analytics
Website/mobile analytic tools
Product Analytics
User Behavior Analytics
CDP
Marketing Channels
Email, CRM & Marketing Automation
SEO
Performance Marketing
Conversion Optimization (CRO)
Enterprise Marketing Solutions
Salesforce Marketing Cloud
Adobe Marketing Cloud
Here's a rough glimpse of some of our technical partners: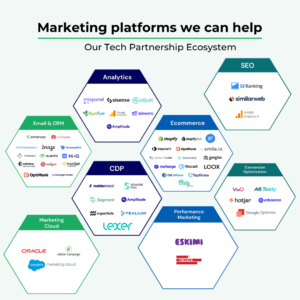 Closing
Having a trustable partner to help your Martech endeavors will allow you to do more with less. We are here to help and accelerate the time to achieve positive ROI faster.