If you're looking for a way to measure your marketing campaign performance or to analyze the users' journey and behavior inside your apps, look no further than Adjust. It offers a suite of tools to make your marketing simpler, smarter, and more secure. Adjust is used by some of the world's leading brands, including Spotify, Soundcloud, and Booking.com. Adjust helps you to track the performance of your campaigns in real-time, making it easy to optimize and adjust your strategies as needed.
But what exactly is Adjust, and why is it so important? To create a truly successful mobile app, you need to have a solid attribution model in place that allows you to track and prove the effectiveness of your marketing across channels. One of the biggest challenges that marketers face nowadays is gaining accurate insight into exactly where their ad dollars are going — and what's working and what's not. Mobile attribution can help you to answer these key questions:
Which marketing channels are performing the best?
How many leads or sales came from a particular marketing campaign?
Which marketing campaigns are most effective at driving conversions?
Are there any problems with the customer journey that need to be addressed?
Once armed with this data, you can better understand which marketing channels are most effective in driving downloads, active users, and ultimately revenue. Mobile attribution is changing the way marketers approach their business – so it's time to scale up your marketing efforts.
There are a number of mobile attribution providers currently on the market, including Adjust, Branch, and AppsFlyer. Branch and AppsFlyer both offer highly competitive features, with the latter being known for its simplicity of use. For Branch, they are focusing on deep-linking and caters to Enterprise. Appsflyer and Adjust, on the other hand, are ideal for the mid-market.
Moreover, if you're looking for a more affordable solution with an easy to set up and manage, Adjust is the perfect choice for you. Adjust charged only for a non-organic install while other solutions such as AppsFlyer charged for both organic and non-organic installs. It's not just affordable—it also has a lot of features that you would find in more expensive solutions to measure, automate, and protect your marketing campaigns:
Attribution: Track your users' journey and/or behavior from a single source across multiple marketing channels while measuring engagement, installs, in-app actions, and other key performance indicators (KPIs).
Fraud prevention: Detect and prevent fraudulent activity in real-time, so you can be sure that your marketing dollars are being spent in the most effective way possible.
Analytics: Get a complete picture of your users' interactions, marketing efforts, and campaign performance.
ePrivacy Certified & GDPR Compliant: Full protection and security covering your personal data.
Control Center: Adjust and automate your campaign optimization so you can scale your mobile marketing more quickly, maximize your app ROI, and continue to invest in what's working.
Open-source software: Free access to analyze, alter, and improve the code and integrate it with as simple as copy-paste.
Audience Builder: Increase your top line revenue by building and sharing segmented audiences.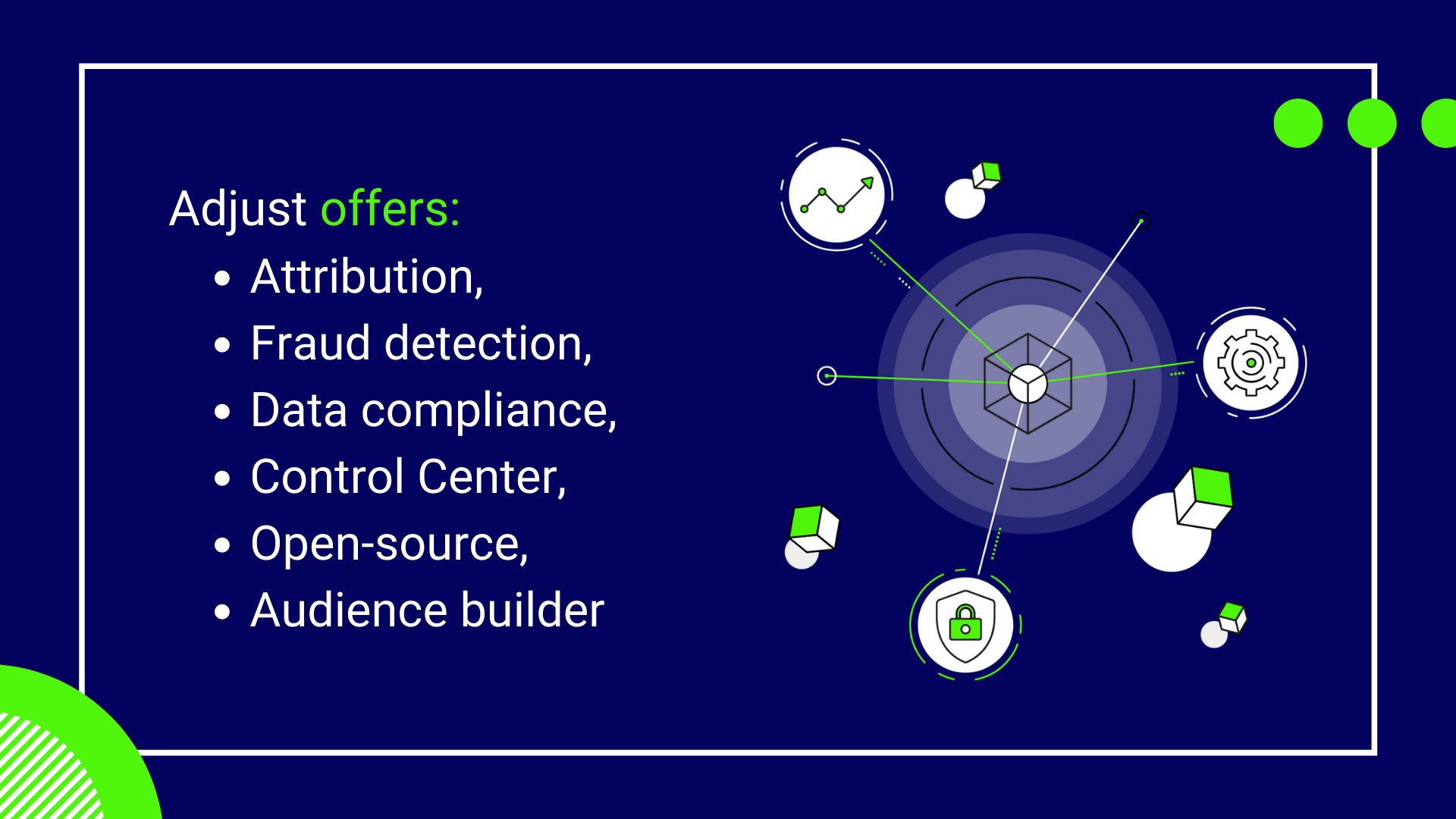 Using a mobile app attribution platform like Adjust provides you with a bird's-eye view of your data – a single, streamlined dashboard that you can use for in-depth analysis. Adjust also gives you the ability to make verified purchases and protect against fraud, ensuring that your data remains clean and reliable.
If you're looking for a comprehensive mobile measurement and fraud prevention solution, Adjust is the perfect solution. You will get an offer that you will not find anywhere else if you purchase from Ematic Solutions. On top of that, we can help you to arrange a demo for your teams and help you to get the most out of the platform. From account setup to platform training, we can help to make sure the solution is being installed correctly and running smoothly.