About Mixpanel
Are you transforming your business with data? Mixpanel can help you gain insight into every step of a customer's journey to see exactly how they're using your product. This product analytics solution provides unparalleled tools to slice and dice the data on your product, from retention and engagement to funnels and cohorts. It is the leading web and mobile analytics platform used by over 6,000 customers to understand your users better and build better products.
Using Mixpanel, you can learn about your product's behavior: what motivates users to complete a specific event? Where does traffic drop off? Moreover, with Mixpanel, you can unlock actionable insights based on events in real-time. From there, you can see the trends across your entire product.
Mixpanel Features
Besides Mixpanel, some powerful platforms are available in the market right now, such as Amplitude. Both platforms are powerful, self-serve analytics tools that give deep insights into your customers. Mixpanel is designed for a mid-market segment, while Amplitude is suitable for a high-market segment.
Mixpanel offers two different tiers of pricing depending on your company's goals. You'll be charged based on a Monthly Tracked User (MTU) or event-based. On top of that, Mixpanel has a variety of features that will be helpful to your team in different ways:
Interactive Reports: With a few clicks, you can query your data and get visualizations in seconds. This makes it simple to answer inquiries about how your product is being used, who stays, and much more.
Team Dashboards & Alerts: Summarize how the items you send affect the figures that matter, and track all of your product's KPIs in one spot.
Limitless Segmentation: Any form of analysis can be broken down by any event or user property, such as operating system or location.
Group Analytics: Calculate measures such as product uptake, active usage, and retention at the account or company level.
Data Integrations: Set up and simplify the exploration of product and user activity data without the need for SQL.
Data Management: Define, manage, and transform your data with ease so that you can confidently analyze it.
Security & Privacy: By adhering to international data regulations such as GDPR, CCPA, HIPAA, and others, your information will remain confidential and secure.
Scalable Infrastructure: Analyze your raw user event stream data at scale, with no pre-computation required.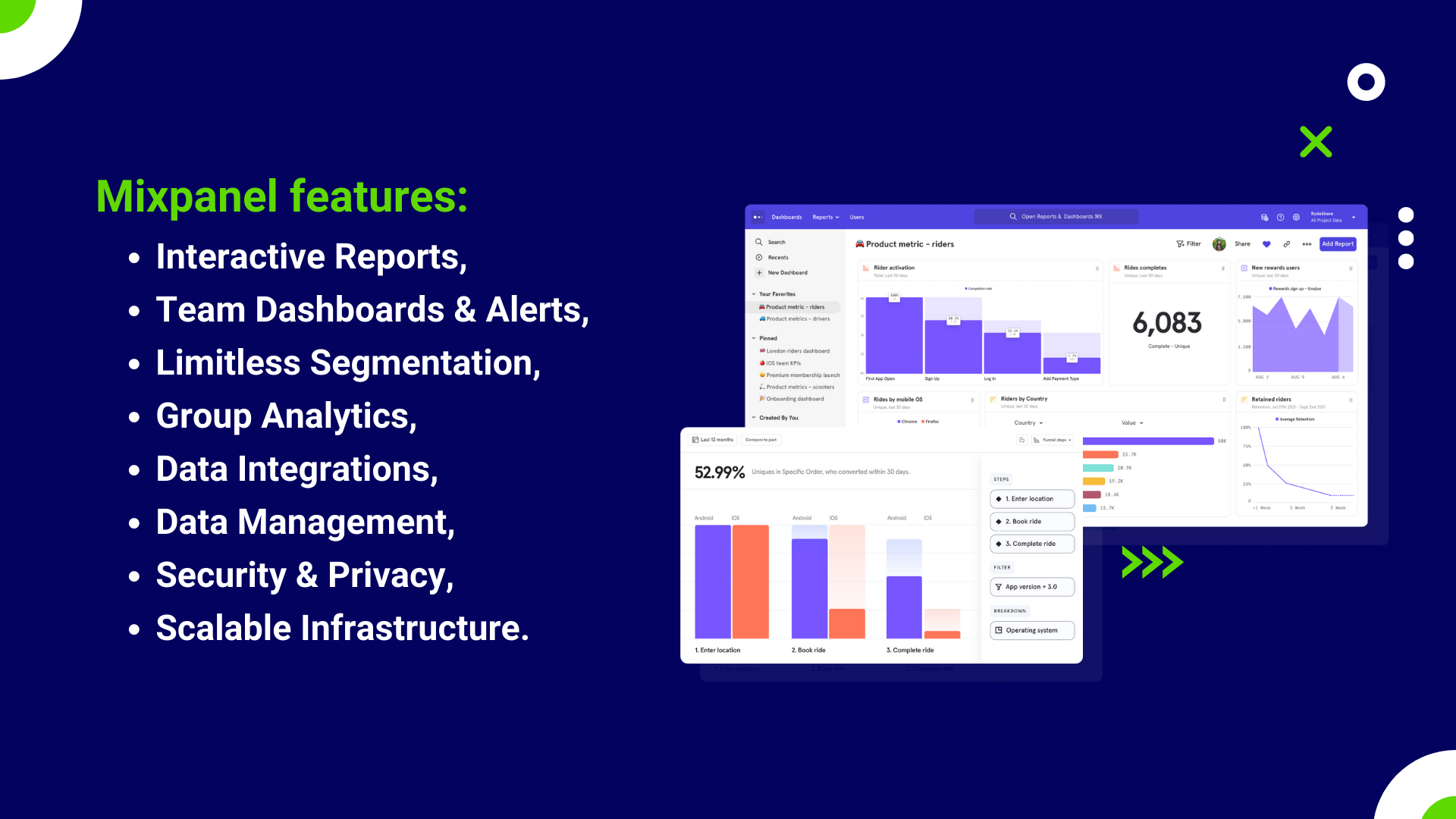 How Ematic Can Help
If you'd like to learn more about Mixpanel, Ematic can assist you to set up a demo and guarantee you're receiving the best deal. Furthermore, if additional assistance is required, we provide implementation services and consultancy to ensure a seamless onboarding and maximum adoption of the solution. To find out more, please contact us!