In our last post we covered the basics of what a Growth Stack is and why it's important. In this post, we'll cover a bit of strategy when thinking about building or upgrading your Growth Stack. We'll also take a look at some of the key functional areas of the Growth Stack including CDP, Messaging Tools, Mobile Attribution and Product Analytics.
As a starting point, remember that what we're trying to achieve is to get your entire digital ecosystem connected, integrated, and talking to each other. That opens the door to "personalization at scale" as you can truly coordinate across channels when every channel knows what's happening with that user across everything else that you're doing.
The second important goal is to future-proof your business by adopting a strategic view on your technology to ensure you're always ready to adapt your stack as the digital ecosystem continues to evolve at an ever-faster pace. A couple of important principles to consider:
Avoid "multi-function" or "all-in-one" technology:

it is nearly impossible for any single-function technology to stay on top these days, as an increasingly competitive landscape is producing new "best of breed" technology at ever-more-rapid pace. Multi-function or supposed "all-in-one" technology doesn't stand a chance – even if one of the core functions is good, other functions will lag behind and you can end up "stuck" with a solution that's not meeting your needs.

Integration-first is a must.

The very first thing Ematic Solutions looks at when evaluating technology is the API documentation and the underlying data model. A great product with limited bi-direction integration capabilities is utterly useless to a Growth Marketer as it creates a silo that breaks the entire vision of an interconnected ecosystem. Ideally many integrations should be pre-built, plug and play solutions that make it possible for a marketer vs an engineer to connect.

Step-change your way to glory:

you don't need to build your entire growth stack all at once. If you're just getting started building your stack, just start by making technology choices that will become future components of your growth stack. If you're evaluating several options, pick the one that is going to be the best fit for your future growth stack. As you change out parts over time, your ecosystem will become increasingly interconnected as you bring more pieces together.

Maintain flexibility.

Avoid any contracts longer than a year until you've got your stack firmly built out, and you have a clear view how any given piece of technology is going to work for your business. Things are changing all the time, and the more contract flexibility you have, the better position you will be in to change out or upgrade components when the time comes.

Manage your costs.

Building a growth stack can get expensive, and if you're finding the proposition to be budget-stretching, look for tradeoffs: depending on the nature of your business, some parts of the Growth Stack will be more important than others. Invest where you need to, but look for some lower-cost alternatives in less-critical components to make sure you reserve some dry powder for when you need it.

With those considerations in mind, let's take a look at some of the core components of a Growth Stack:
CDP = Customer Data Platform

(major players = Segment, Tealium and mParticle): this is the essential piece of infrastructure, as it is the data hub to connect everything in your digital ecosystem. There are many players now advertising CDP as part of their offering, but our opinion is that most of them aren't really CDP. The most important aspect of CDP is that it can work with any technology you are using, so if you see CDP functionality that is tightly bundled with other core Growth Stack components, that should be a red flag. We like the pure play CDP's best, that just focus on data inputs and outputs while creating a central view of the customer. Also, we view CDP as something of an investment rather than a direct ROI play, so if you're struggling with budgets, you can consider starting with other components, but at some point CDP must be on you roadmap.

Mobile Attribution

(major players = Appsflyer, Adjust and Branch): this is an absolute must for anyone with a mobile app, as it is the only way to measure the efficacy of your App Download Campaigns. Unlike the web, where you have direct access to analytics about which customers came from which campaign, when your users go to download your app from the app stores, the "chain" of data is broken because the event happens purely in a 3rd party environment. Attribution tools not only allow you to measure your ROI effectively from your app download campaigns, but they also feed the initial event data (who's downloaded, have they activated, etc) into your data ecosystem. This is critical for retargeting and activating users.

Product Analytics

(major players = Mixpanel and Amplitude): the key to driving rapid growth of your user base is to have an iterative approach to optimizing your app. Testing, analysis, and iteration form the core of ensuring your users love your product, and Product Analytics tools are built for product teams to easily perform this iterative approach. As a side benefit, the data generated by these products is GREAT for marketers to use as segmentation, targeting and retargeting criteria in marketing channels.

Messaging

(major players = Iterable and Braze): there are hundreds of messaging products in the world today, but when it comes to tools that are built for the Growth Stack, we look for products that are integration-first, with an ability to consume data from numerous sources quickly and simply, and while they need to be strong in traditional messaging channels like Email, Web Push, App Push and In-app notifications, they should also have the flexibility to serve as an automation engine to theoretically any messaging channel. Again we recommend avoiding "multi-purpose" products that try to combine multiple of the core growth stack functions.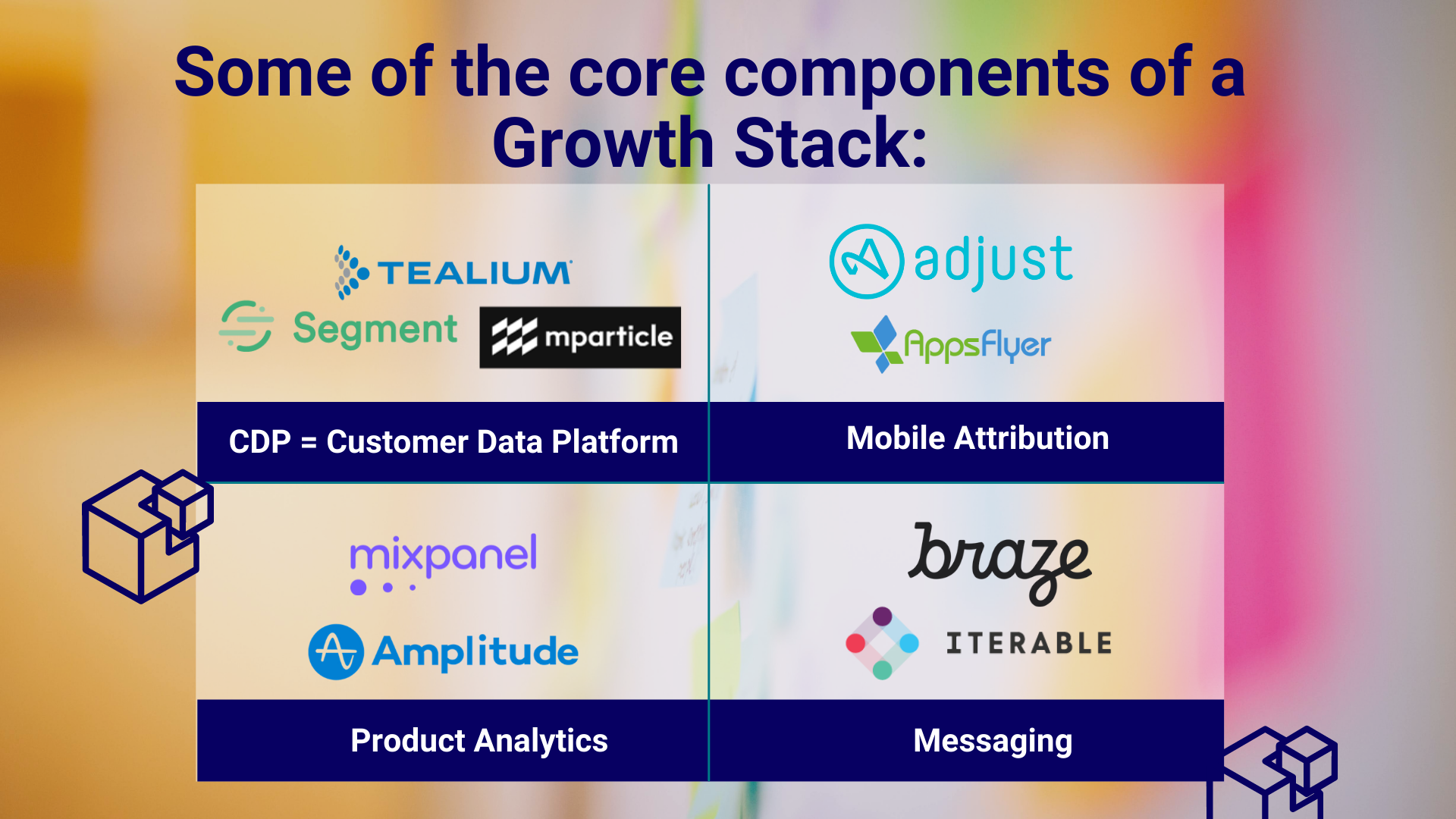 With those 4 core functional components, you'll have the major infrastructure of your Growth Stack secured, though surely there are more pieces (like Data Warehouse, BI Tools, Web Personalization and much more) that warrant further discussion. Remember, if it sounds like a lot, you don't have to build it all at once! What we recommend is to start mapping out your needs and your dream growth stack, then prioritize the biggest pain points and address those first. If you've got a long-term marketing technology strategy that builds in the right direction, you're on the right track!